Services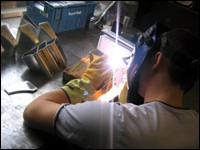 You can rely on GMX to offer you the best possible service at competitive prices.
Custom Repairs for Mx, Enduro, Road and Trials radiators...
Our custom repair service includes straightening, strengthening and pressure testing as well as replacement of key radiator parts like inlet and outlet tubes, filler necks, brackets and rad caps.
As well as the branded Radiators above, we can repair most alloy radiators and we offer a strengthening service for OE Radiators from new or nearly new, which includes welding around all the inlet and outlet tubes and strengthening the braces.
Custom Welding...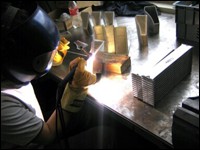 As well as radiators, we can also carry out general alloy welding repairs on crankcases, sub-frames and silencers etc.
Welding and fabrication of special parts to customers drawings/specifications is no problem and we also offer a Lathe Machining service, small alloy Pipe Bending and the fabrication of link pipes etc.
Although GMX specialise in the motorcycle off-road market, we do undertake other work such as fabrication of vintage car radiators for restoration projects and the repair and assembly of road bike rads including racing machines. Where possible though we will always try to accommodate our customers needs and we will turn our hands to most general alloy welding projects too. Just call or email us and we will see what we can do for you!