Our race radiators are designed for all makes and models of off-road and competitive moto-cross bikes, and include our standard rad capable of being fully re-built and our advanced performance oversized radiator designed for superior cooling. As well as producing radiators, GMX produces a number of other specialist race parts including Road Bike radiators, cool hoses, alloy fuel tanks, s/moto breather and catch tanks, expansion tanks. Vintage car radiators and alloy tanks.
Our products have been used by a number of winning teams / riders including:
British and MX Nationals 85SW Champion - Ben Clark
Weston Beach Race 85sw winner - Sam Nunn
British & World Enduro Champion -
David Knight
Weston Beach Race winner -
Paul Edmondson
British Youth Champion -
Scott Elderfield
RFX/Crescent Yamaha

, Honda UK,

Buildbase Honda,
Bud Racing France.
Fast Eddy Team,

PAR Honda,

RWJ Honda,
MBO Yamaha,
Molson Kawasaki,
Shineray Honda, Connor Walkley,
CCM Motorcycles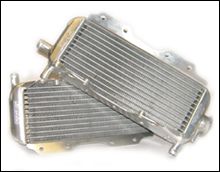 GMX's oversize radiators provide exceptional extra cooling and efficiency...