Need something
special, no problem
simply contact us!

GMX... made to win!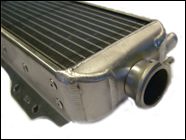 GMX Radiators are a world leader in the production and development of professional Moto-cross rapid cooling race radiators. We also can fabricate Road Bike & Classic Car radiators to your specification.
The team at GMX has considerable experience in racing parts development and engineering and, using advanced technology and materials produce a wide range of quality race components like alloy fuel tanks, engine oil breather tanks, carb catch tanks, expansion tanks, and are suppliers of Samco silicone hoses.
We understand that in today's professional racing arenas, sometimes there are only split seconds to play for. Our expert knowledge and superior product range gives you the competitive edge needed to not only compete……but to win!
We provide a radiator repairs service, please see the section in the products then repairs box for more info and how to proceed with sending them into us.
We are having problems with our phone line please call mobile number below at present

Telephone:

+44 (0)1371 850729

Mobile: 07880 728550

Codham Little Park Farm

Codham Park Drive

Beazley End

Braintree

Essex

CM7 5JQ

1pm - 5pm Mon -Thurs, 1pm - 3pm Fri

Email: jo@gmxradiators.co.uk

Workshop open: 9am - 5pm Mon - Thursday

9am - 3pm Friday

We are now on Facebook

like our page for regular updates

on products and our Race Team